The electric truck war is heating up as Ram on Wednesday revealed its contender in the form of the 2025 1500 REV.
The full-size pickup's design was teased in February during a Super Bowl LVII commercial, and Ram used the backdrop of this week's 2023 New York auto show to confirm key details.
The Ram 1500 REV goes on sale in 2024 and promises to deliver best-in-class range. Ram targets a range of up to 500 miles, with an available 229-kwh battery. The standard battery is a 168-kwh unit that Ram estimates will deliver up to 350 miles.
Ram also promises towing and payload capacities of up to 14,000 and 2,700 pounds, respectively, both expected to be class-leading. The Ford F-150 Lightning and upcoming Chevrolet Silverado EV are only rated up to 10,000 pounds for towing and payloads below 2,000 pounds.
2025 Ram 1500 REV
Additional performance targets include a 0-60 mph time of 4.4 seconds and 24 inches of water fording. Just the one powertrain configuration has been announced: a dual-motor all-wheel-drive setup good for 654 hp and 620 lb-ft of torque.
Each motor is integrated in a module that also combines a transmission and inverter. The front module can be disconnected from the front axle to help boost efficiency, while the rear module can be combined with an electronic locking differential. One-pedal driving is also possible when full energy regeneration mode is activated.
2025 Ram 1500 REV
For buyers seeking more range, Ram plans a 1500 REV XR that will arrive after the market launch of the 1500 REV. Ram hasn't provided details but the XR in the name likely indicates the planned extended-range option, where an internal-combustion engine is used to charge the battery while on the road.
When it comes to charging the regular 1500 REV, there's support for DC fast charging at up to 350 kw, which Ram estimates will add 110 miles of range in about 10 minutes for both battery options. There's also bidirectional charging, meaning owners will be able to power a work site, charge another EV, or even back up a home during a power outage. A power panel in the bed provides up to 7.2 kw and one in the frunk provides up to 3.6 kw.
The frunk has 15 cubic feet of storage. Ram hasn't mentioned what bed sizes will be offered, though the automaker has confirmed extra storage from its Ram Box fitted to the truck bed side.
STLA Frame platform
The 1500 REV rides on a dedicated EV platform known as STLA Frame. The platform, one of four modular designs that will underpin future EVs across the board at Ram parent company Stellantis, has been designed for body-on-frame vehicles like pickup trucks, large SUVs, and some commercial vans.
The STLA Frame platform features a steel frame that has been made wider in the middle than a typical truck frame to squeeze in the batteries. It also features a full-length belly pan that has been aerodynamically optimized to help reduce drag. Ram claims the 1500 REV's 0.34 coefficient of drag is the lowest in the segment.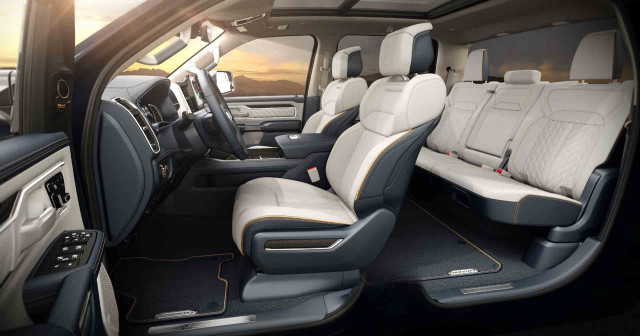 2025 Ram 1500 REV
Other features of the platform include multi-link independent rear suspension and adjustable air suspension front and rear. The latter is a standard feature and features five settings: entry/exit, aero, normal, off-road 1 and off-road 2.
Despite the new platform, the 1500 REV's design is a close match to today's internal-combustion 1500. There are elements from the striking 1500 Revolution Concept shown in January at 2023 CES, like the design of the lights at both ends, though the similarities largely end there. Ram is cooking up a mid-size electric truck, and rumors point to it being closer in design to the concept.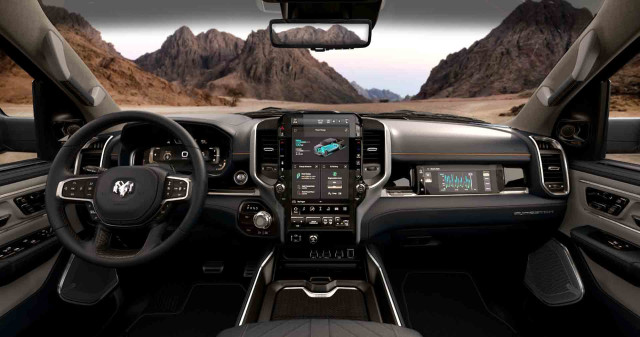 2025 Ram 1500 REV
Ram is currently accepting reservations for the 1500 REV. The automaker hasn't mentioned pricing but said there are the usual Tradesman, Big Horn/Lone Star, Laramie, and Limited grades, plus a new Tungsten grade.
The Tungsten grade is the range-topper, featuring items like a power tailgate, metal accents in the cabin including for the pedals, heated and cooled front seats with quilted leather and 24-way power adjustment, a 23-speaker Klipsch audio system, plus suede trim on the headliner, pillars, and visors. Carbon-fiber accents will also be available for the cabin.
2025 Ram 1500 REV
Other features of the 1500 REV, either standard or available, include a 12.3-inch digital instrument cluster, a 12.0- or 14.5-inch infotainment screen, a 10.3-inch screen to display information (navigation, entertainment, and device management) to the front passenger, a digital rearview mirror, a head-up display, and a smartphone as a key function.
Ram has also noted several driver-assist features, including a hands-free mode for highways where the truck relies on lane centering with adaptive cruise control to handle itself in single-lane driving.
Related Articles