EIN Presswire | Newsmatics
Introducing Libra Philanthropies: a Global Foundation for Human Empowerment
News provided by
EIN Presswire
Sep 18, 2023, 11:39 AM ET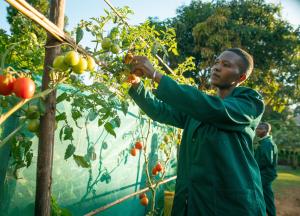 Libra Philanthropies' partners with Women Smiles Uganda to bring affordable vertical farming solutions to underserved communities.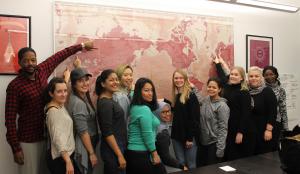 Libra Philanthropies partners with One to World, coordinating enrichment and cultural programs for visiting Fulbright grantees in the greater New York area.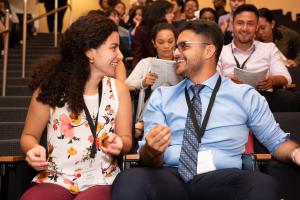 Students engage in professional development as part of Libra Philanthropies' Rising Global Leaders program.
Libra Philanthropies announces its launch as an independent foundation shaping the future of individuals, communities, and future generations for the better.
NEW YORK, NY, UNITED STATES, September 18, 2023/
EINPresswire.com
/ --
Libra Philanthropies
is excited to announce its official launch as an independent 501(c)(3) foundation dedicated to shaping the future of individuals, communities, and generations to come for the better. Libra Philanthropies is built on
Libra Group
's decade-long social responsibility legacy of supporting over 25 million people and 281 organizations in 182 countries around the world through Libra Social Responsibility. The Foundation is committed to creating, supporting, and scaling social impact initiatives through the exponential power of a global network, creative hands-on programs, and strategic giving.
The Foundation is a collective of 10 philanthropic initiatives that include social impact programs and independent non-profits that the Libra ecosystem has incubated. These initiatives focus on mental health, leadership and empowerment, entrepreneurship, addressing global issues through public private partnerships, and providing opportunity to high-potential individuals and communities worldwide.
George M. Logothetis, Chairman of the Libra Philanthropies Board and Executive Chairman at Libra Group said, "At the heart of Libra Philanthropies is a deep belief in the transformational power of hope. By empowering individuals, creating initiatives that address seen and unseen barriers, and providing vehicles of progress across our global platform, Libra Philanthropies is creating a self-perpetuating cascade of good."
The foundation will be led by Rosanna Mortoglou, who comes to Libra Philanthropies with extensive experience within Libra Group. Starting as an intern and quickly advancing through the ecosystem, she most recently served as Libra Group's Chief Representative in Greece, leading strategic operations and business development in the region. Her background includes collaborating with leaders across various sectors and functions, providing her with a comprehensive understanding of the challenges and opportunities facing our global community.
Logothetis continued, "I am very proud that Rosanna, a passionate leader and veteran of our Group, will take the helm as the organization's first-ever CEO. Under Rosanna's stewardship and with the continued work of the dedicated Libra Philanthropies team, I'm confident that we
can be catalysts of change for individuals, communities, and future generations."
"It is a privilege to empower people dedicated to meaningful change," says Mortoglou. "We are determined to advance the work of Libra's last decade into a global organization that uplifts leaders of tomorrow, amplifies the impact of organizations within our ecosystem, and changes lives."
The Board of Directors includes Chairman George M. Logothetis (Executive Chairman, Libra Group), Vice Chair Nicholas M. Logothetis (Vice Chairman, Libra Group), Secretary and Treasurer Phaedra Chrousos (Chief Strategy Officer, Libra Group), and Member Diana Doukas (Economic Opportunity & Advocacy, US Policy, Meta).
Libra Philanthropies Initiatives:
1) Catalyst Partners: The Catalyst Partners scales high-potential organizations that address emerging societal issues. Through bespoke capacity building, global network connections, and 1:1 support, this initiative accelerates local and global solutions. Partners include organizations like The Azadi Project, the McCain Institute, and the Oxi Day Foundation.
2) Concordia: Founded by Matthew A. Swift and Nicholas M. Logothetis, Concordia is an independent non-profit, non-partisan organization dedicated to fostering and sustaining cross-sector public-private partnerships for social impact. Their summits across the world draw 4,000+ attendees from 100 countries annually.
3) Envolve Entrepreneurship: Embracing innovation is essential for social progress. Envolve Entrepreneurship is a Libra Group-founded innovation hub that champions entrepreneurs across Europe, supporting dozens of founders that operate in 20 sectors with over €6 million in funding. Envolve offers educational programming, business tools, and funding opportunities to empower changemakers and strengthen entrepreneurial
ecosystems.
4) Founder Forward: An independent non-profit created by Libra Group, Founder Forward advances equity and diversity in the U.S. entrepreneurship ecosystem by addressing opportunity gaps and institutional roadblocks that affect founders in overlooked regions or intersections of identity. Founder Forward has helped 136 founders and distributes both unrestricted capital and pro-bono advising hours.
5) Rising Global Leaders: Strong leaders are the building blocks of society. Rising Global Leaders is a Libra Philanthropies social impact program that nurtures emerging leaders through higher education fellowships, having thus far awarded over $2.25 million in scholarships to 170 individuals at partner organizations. As part of the Rising Global Leaders network, participants also have access to transformative career development
opportunities, thought leaders, and policymakers through events like the annual Concordia Summit.
6) Seleni Institute: Founded by George and Nitzia Logothetis in 2013, the Seleni Institute is an independently run clinic and non-profit committed to transforming the care landscape of maternal and family mental health. Seleni's team of clinicians have held over 50,000 patient appointments with individuals and their families navigating their family-building years, and offer accredited online training courses taken by healthcare professionals in over 35 countries.
7) Strategic Giving: Libra Philanthropies invests in mission-driven organizations and programs that empower communities, enhance social cohesion, and drive economic development. We believe in building grantee relationships based on transparency, dialogue, trust, and mutual learning.
8) WE LEAD: WE LEAD is a Greek-based nonprofit founded by Libra Philanthropies that provides access to market-driven training and career development for women seeking leadership opportunities in technology and business. WE LEAD offers hands-on training, mentorship and peer support, and direct market access to program participants.
Libra Philanthropies invites individuals, organizations, and partners who are committed to uplifting humanity, to join them in advancing sustainable and scalable solutions to pressing global issues.
For more information about Libra Philanthropies and its initiatives, please visit
www.libraphilanthropies.org
.
Contact:
Sara Bond
Communications Manager
Libra Philanthropies
sara.bond@libraphilanthropies.org
+1 631 693 9528
Sara Bond
Libra Philanthropies
+1 631-693-9528
sara.bond@libraphilanthropies.org
NOTE: This content is not written by or endorsed by "WATE", its advertisers, or Nexstar Media Inc.
For inquiries or corrections to Press Releases, please reach out to EIN Presswire.