In one of the most shocking moves in NBA history, former MVP and two-time Finals MVP Kevin Durant is headed to the Suns, per multiple reports. Phoenix acquired the future Hall of Famer from the Nets on Thursday. Brooklyn will receive forwards Mikal Bridges, Cam Johnson and Jae Crowder as well as four first-round picks and a 2028 pick swap. The Suns will also acquire T.J. Warren in the deal. It was reported earlier the Nets were leaning toward not trading Durant. Now, only a few days after trading Kyrie Irving, Brooklyn has also moved on from KD. Let's grade the deal for both sides.
Suns: A+
This is a win-now move in a wide-open Western Conference, and it's a home run. Phoenix almost certainly becomes the favorite in the West, with an improving Chris Paul, an All-Star level Devin Booker and Durant forming a formidable trio. Those are three of the deadliest halfcourt scorers in the NBA, and they will be hellish to defeat in a playoff series. And after years of the postseason burden seemingly catching up to Paul, he now has two ultra-elite perimeter scorers to make his life much easier.
KD should slot in nicely into Johnson's spot in the starting lineup, while Torrey Craig can start at the other forward. With Deandre Ayton at center, that's an incredibly well-balanced starting group on both ends of the floor. CP3 pick-and-rolls are going to be so much deadlier with Durant spacing the floor, and now defenses won't be able to load up on Booker quite as easily if he wants to isolate. The offensive options are tantalizing. And the defense should still be stout. It's not quite as good offensively, but this Suns trio is arguably a better two-way version of the one Durant had in Brooklyn.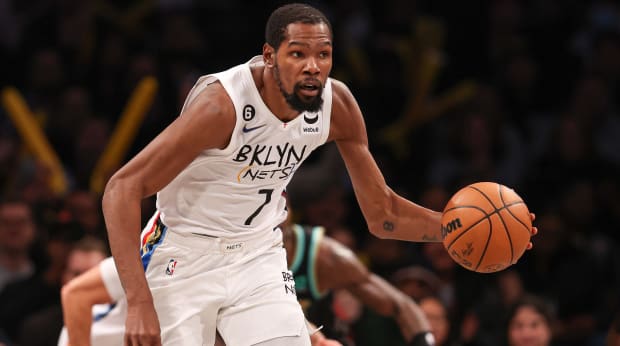 And while the four firsts are a steep price, they are within the lines of the superstar going price. It's also not only a win-now move. Durant is signed for three more years after this one, which means he could be with Booker through the latter's prime. (It also may make it easier for Phoenix to move on from Paul this summer.)
It really is a truly shocking move. Over the weekend, it was reported Paul could be headed to Brooklyn in exchange for Kyrie. Instead, the Suns were rejected and fell into an even better offer: Keep Paul and add Durant. Players of KD's caliber are so rarely on the trade market. Phoenix took advantage of an incredible opportunity.
Nets: C+
What if I told you the Nets traded away Kevin Durant for the same number of picks the Jazz got for Rudy Gobert? Look, Brooklyn was in a bad position. Irving blew up the season, and perhaps Durant then demanded out. The Nets decided now was the best time to exit this mess. But could they have not possibly gotten a better package in the summer?
Bridges is a very solid player whom Phoenix will miss. He's also particularly great as a role player, and he's possibly miscast as a team's No. 2. Johnson is a great shooter and also can complement an already-great team. As of now, he's a redundant, not-quite-as-good version of Bridges. And while the picks at least meet the new baseline expectation, it's hard to imagine them ever being incredible as long as Booker, only 26, is around.
Brooklyn will likely do some more wheeling and dealing as the day continues due to the spare-part nature of the roster. The Nets are now all about reclaiming all the draft capital they gave up the last couple seasons. This trade is most likely the first of many geared toward that goal.