More Americans than ever plan to bet on Super Bowl LVII, where the Eagles are slight favorites over the Chiefs.
According to the American Gaming Society, over 50 million American adults are betting on the Big Game as legalized sports betting continues to grow. An estimated $16 billion is projected to be wagered on the single biggest game in the sports world. Right now, most of the handle and the majority of bets are backing the Birds.
Kickoff from Glendale, Ariz., is now just four days away. Keep up with all of SI Betting's coverage with our Super Bowl hub.
In today's Winners Club, you'll find:
One-Stop Shop for Super Bowl Player Props
Before getting into the ins and outs of the deep and intriguing player prop markets, first things first: The injury report.
Quarterback Patrick Mahomes, who suffered a high ankle sprain in the divisional round, said Monday: "It's definitely in a better position than it was at this time last week." He played every offensive snap against the Bengals in the AFC championship.
The Chiefs placed receiver Mecole Hardman (abdominal) on injured reserve and activated running back Clyde Edwards-Helaire (ankle) ahead of the Super Bowl.
After missing practice last week, Eagles All-Pro right tackle Lane Johnson said, "It's better now" of the groin injury that kept him out of the final two games of the regular season.
Also on the injury report for Philadelphia are guard Landon Dickerson (elbow/rest), center Cam Jurgens (hip/rest), cornerback Avonte Maddox (toe/rest) and defensive end Robert Quinn (foot/rest). None are listed as questionable, though.
As for Kansas City, key contributors on both sides of the ball are questionable, including receiver JuJu Smith-Schuster (knee), receiver Kadarius Toney (ankle/hamstring), cornerback L'Jarius Sneed (concussion) and linebacker Willie Gay Jr. (shoulder).
Michael Fabiano dove into an interesting and informative trend ahead of the Super Bowl that could concern Mahomes and the Chiefs.
Only six quarterbacks who led the NFL in passing yards have also played in the Super Bowl. The list includes all-time greats like Tom Brady, Peyton Manning, Dan Marino and Kurt Warner.
The kicker? They all lost.
Who led the league in passing yards this season? That would be Mahomes.
Moreover, since 2000, NFL MVPs who have appeared in the Super Bowl are 0–8. Mahomes is widely expected to earn his second MVP award at the NFL Honors on Thursday. Just something to keep in mind…
Fabiano also has advice to help fantasy players craft a winning DFS lineup with so few options to choose from. It's important to pick the right MVP, but you also have to hit on your value plays as well to have a shot at winning. Be sure to use Fabiano's positional player rankings to help you put that lineup together.
Do you want props? We got 'em! Below you can find individual player breakdowns for everything from passing yards to receiving yards to touchdown scorer odds for many of the top skill position players on the Chiefs and Eagles.
But first, Frankie Taddeo shares which prop bets respected money is backing as well as a longshot wager. And for those interested in the novelty betting scene, you know, coin toss, National anthem length, and things of that nature, Jen Piacenti is your guide.
Chiefs Player Props: Patrick Mahomes | Jerick McKinnon | Travis Kelce
Eagles Player Props: Jalen Hurts | Kenneth Gainwell | A.J. Brown | DeVonta Smith | Dallas Goedert
Coming soon: Isiah Pacheco and Miles Sanders
LeBron Breaks Scoring Record as Trade Deadline Looms
LeBron James did it. He now stands alone as the league's all-time leading scorer with 38,390 points (and counting…).
James broke Kareem Abdul-Jabbar's record with a fall-away jumper in the waning seconds of the third quarter Tuesday against the Thunder, and the game stopped to celebrate his accomplishment.
The Lakers went on to lose, 133-130, but that wasn't the focus of this record-breaking night.
When it's all said and done, James will likely be well north of the 40,000-point threshold, a category of his own. Abdul-Jabbar's record stood for decades—just how untouchable would a feat like that be?
Rohan Nadkarni took a shot at guessing which current (or future) player could pass the record. It doesn't seem likely to fall any time soon.
Now that the record has been broken, the focus around the NBA shifts entirely to the trade deadline, which is Thursday at 3 p.m. ET.
The action got going this past weekend when the Nets and Mavericks agreed to a deal that sent Kyrie Irving to Dallas in exchange for a package centered around Spencer Dinwiddie, Dorian Finney-Smith and draft compensation. The resulting shift in the betting markets dropped Brooklyn's odds and moved the Mavericks into the top 10.
Without Irving, the Nets have been buoyed by the play of second-year guard Cam Thomas, who logged his third consecutive 40-point game Tuesday in a loss to the Suns in Devin Booker's first game since Christmas.
In other NBA injury news, Steph Curry is set to miss multiple weeks due to partially torn ligaments in his leg. The Warriors (28-26) are in seventh place in the tightly contested Western Conference.
Get Your NBA Tickets with SI Tickets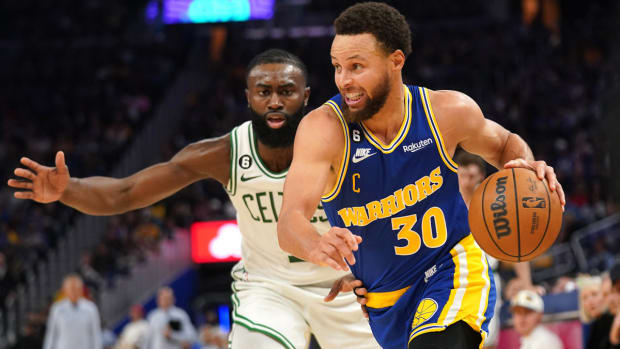 Top 10 NBA Teams by Title Odds at SI Sportsbook
Boston Celtics +300
Milwaukee Bucks +400
Denver Nuggets +650
Philadelphia 76ers +850
Memphis Grizzlies +1000
Golden State Warriors +1100
Los Angeles Clippers +1200
Dallas Mavericks +1300
Phoenix Suns +1700
Cleveland Cavaliers +1700
In Other News
2023 Five-Round Fantasy Mock Draft: Wide receivers and quarterbacks are going earlier than ever in Fabiano's solo mock draft that looks ahead to next season. See how early Mahomes and Justin Jefferson come off the board and which player goes 1.01.
Tom Brady Will Begin Fox Broadcasting Job in 2024: The recently re-retired quarterback is taking a gap year from football before he intends to join the Fox booth. Brady and the network agreed to a 10-year, $375 million deal last summer for him to become the lead NFL analyst upon his retirement.
Saints Receive Permission to Interview Derek Carr: The deadline for the Raiders to trade their quarterback before his $40 million guarantee is a week away, and New Orleans is showing interest. Coach Dennis Allen was Carr's head coach in 2014, the year he was drafted.
49ers to Hire Steve Wilks to be Defensive Coordinator: Wilks, the former Panthers interim coach, will replace DeMeco Ryans in San Francisco. He went 6–6 with Carolina, coached the Cardinals in 2018, and was a defensive coordinator for the Browns.
A.J. Green Announces His Retirement: The former No. 4 overall pick is calling it a career after 11 seasons. Green made seven Pro Bowls during his nine-year stint with the Bengals. He spent the last two seasons with the Cardinals.
---
Thanks for reading Winners Club! Check your inbox Friday morning once the dust settles on the NBA trade deadline and to see which way our writers are leaning ahead of the Super Bowl.