Eagles owner Jeffrey Lurie stood, hands clasped, in a navy suit and green tie. Around him, the room reeked of cigar smoke. His voice barely rose over the loud smacking of hands on backs, grown men securing one another in loud embraces, or people commenting on the Prince-purple pants Jalen Hurts had decided to wear to the podium ("too much," joked one coach).
Lurie was talking about success. About another trip back to the Super Bowl. About why he chose to run the franchise the way he did, more reminiscent of a day trader than of a country club lifer, just eager to hang out with his famous friends for as long as humanly possible.
He was talking about Red Auerbach, the nine-time NBA champion who coached the Celtics from 1950 to '66. Lurie, a Boston kid, learned an important lesson growing up watching the legendary coach. He took in what Auerbach did. He took in public perception. He took in the fact that most of the time the two didn't align. He took in the fact that Auerbach didn't seem to care and kept winning, anyway.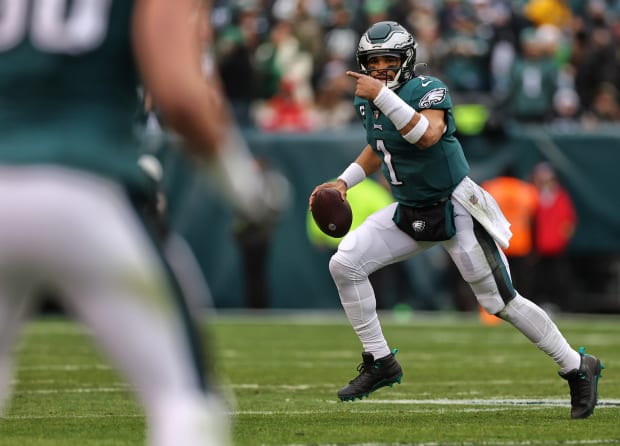 "To me, he made a lot of decisions, not the popular decisions, not the headlines the next day in the Boston Globe, but it was what was best for the franchise to continue their dynasty," Lurie says. "Whether it was Bill Russell to be the player-coach, Bob Cousy, the list goes on and on. The McHale trade.
"Don't ever do the conformist thing. Don't ever do what's popular. If you want to be 8–8, do that. But if you want to have a chance to compete in a very big way, do what you think is right. If you're wrong? So be it. Let it go. Let it go, move on and make up for it."
After a 31–7 beatdown of the 49ers Sunday in the NFC championship at Lincoln Financial Field, it was time for a realization of sorts. The Eagles keep finding a way here and, each time, look markedly different in the process. Not so long ago, there was a time when the idyllic picture of a franchise was the same coach and quarterback, arm in arm, like some ageless Norman Rockwell painting. Teams grasped for it foolishly like gravity on the moon. The Eagles are more Picasso. There was Andy Reid and Donovan McNabb. Doug Pederson and Carson Wentz. Now Nick Sirianni and Jalen Hurts. In most of those cases "nobody wanted to interview any of them, and each, at the time, wanting them, fulfilled something I thought was incredibly important for our culture, our organization at that moment," Lurie says.
Outside of a brief trip to his childhood, outside of the Celtics, Lurie wasn't ready to answer these questions: How do you know when something goes stale? And how do you rebuild it in an instant?
"So," he says, before giving a half-hearted laugh, "I don't want to fully answer that. I think the secret sauce is involved in that evaluation of when your team is at a certain place. What can you bring in terms of coaching leadership that will vault you to a place where you can compete for another Super Bowl … soon?"
The last time the Eagles were here—in the 2017 season—they had fortified the roster contractually, lining up the team's most important stalwarts through a similar date as if to cement in place the window everyone believed they had.
It was a bold proclamation of sorts, and ultimately the antithesis of what Lurie and general manager Howie Roseman would come to be known for. While most teams and fans derive great comfort from security, falsely believing that a club's best players and coaches will perform dutifully throughout the length of these laughably monstrous (and numerically exaggerated) deals, the Eagles have capitalized on the fickleness of uncertainty and impermanence. It's a hard sell to a loyal base of supporters—most fans will have to buy a new jersey every two or three years—though, apparently, not as difficult as years of irrelevance, which the Eagles have not known in some time.
Indeed, by the time many of their critical players were up for contractual adjustments after their post–Super Bowl paydays, the Eagles had already changed coaches, quarterbacks, coordinators and schematic philosophy. Outside of some truly good fortune—namely the health of stars such as Jason Kelce, Lane Johnson and Brandon Graham—this roster was built from the ribcage of the previous one in real time, ending up a completely different entity altogether. Throwing out a Super Bowl winning coach and a quarterback who was a few games away from winning an MVP award would be considered madness at one point in NFL history.
Now, it should be considered a blueprint.
In the most simplistic way, one could say the Eagles are the creators of what has been dubbed the John Schneider philosophy: build a monstrous team full of talented players around an inexpensive quarterback playing under a rookie contract. But unlike the Seahawks, which became increasingly committed and beholden to a quarterback and an ideology at the expense of acquiring and paying talent elsewhere, the Eagles recognized their own shortcomings before they began to corrode. That included a consistent push to continue developing an offense that would evolve alongside modern defenses, increasingly built to take away the kind of heroic, play-extending moments they were best at previously.
The complexities—what Lurie called the "secret sauce" Sunday—come when melding that philosophy of the rookie contract QB push with the replacement of a coaching staff. Lurie and Roseman got rid of Reid. They got rid of Pederson after a brief period of time in which offensive consultants were brought in to try and modernize the offense beyond what it had been during their Super Bowl run. They got rid of Chip Kelly after two consecutive 10-win seasons.
If there is such a thing as a beautiful lack of sentimentality, that's what most players were breathing in along with the smoke Sunday after the game. Lurie said he loves Reid. He simply doesn't employ him anymore. One could imagine him saying that about any of the names and faces that have rolled through his office. He has love for everyone here, he says, and appreciates the hard work that it took to get them on the doorstep of another Super Bowl win.
But he will also know the moment they no longer fit in his vision for the next one. The when and why of it are between Lurie and Red.